Restaurant marketing can sound intimidating but it doesn't have to be! While big restaurants might have a whole team or agency to handle their marketing, your restaurant can get started with just a few basic strategies.
Whether you're just starting out or looking for new ways to turn first-time guests into loyal regulars, here are some simple marketing tips to get you going.
What is restaurant marketing?
---
Before we dive into how to market your restaurant, let's first cover what it is. Essentially, marketing makes sure your restaurant is seen by as many potential diners as possible while encouraging existing guests to come back for more.
You can do this by sharing reviews or news about upcoming events, specials, seasonal menus and recipes with your guests. And, there are many different channels you can use to reach them, such as your website, social media, email and SMS subscribers, and paid ads. The options are endless so, let's dive in!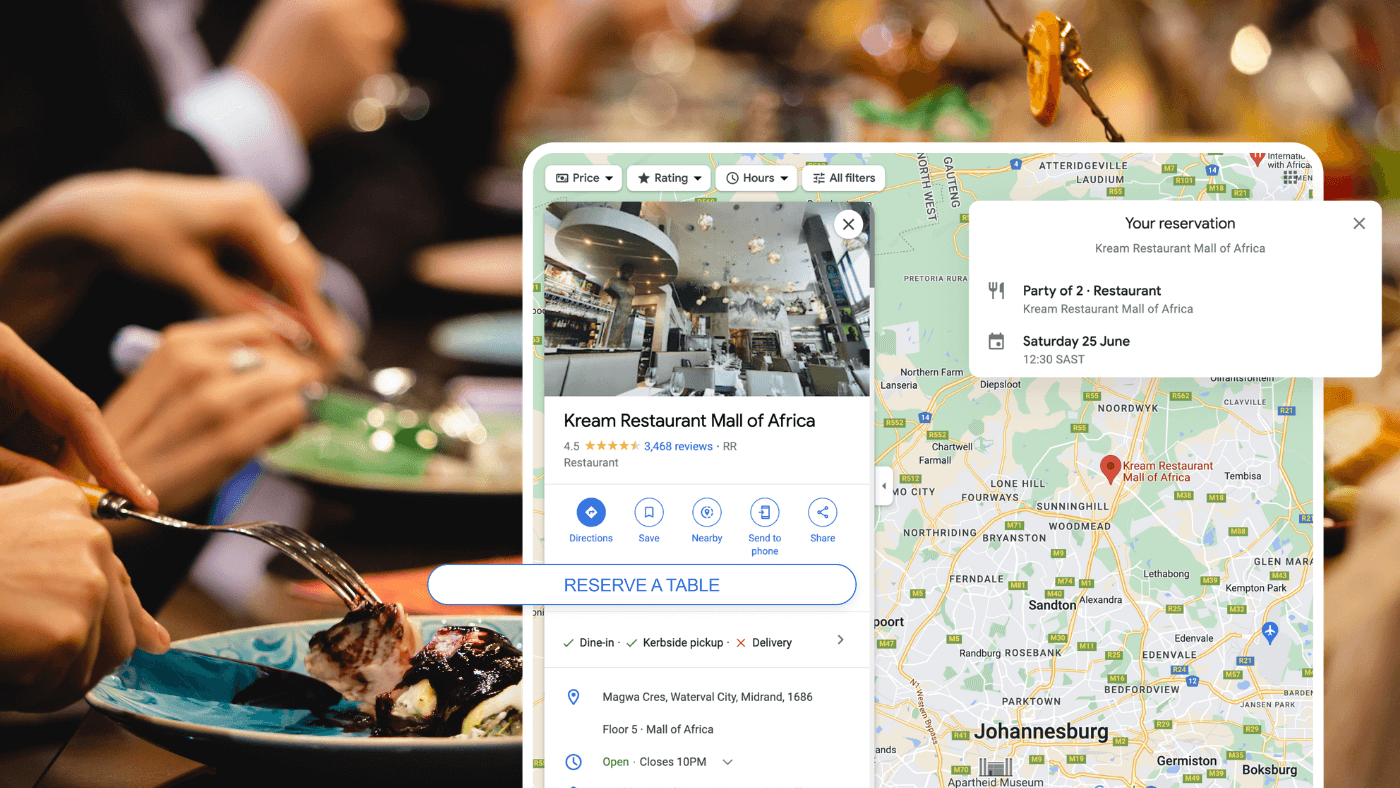 1. Create an online presence
---
First things first, one of the best ways to market your restaurant is to make sure that it's easy to find online. A restaurant should, ideally, have its own website and Google My Business profile, as well as a presence on third-party review sites to boost its online visibility. Basically, if someone is looking for an Italian restaurant in Pretoria, and that's you, you want them to be able to find you online!
Having a simple, easy-to-navigate website that includes a digital menu and takes online reservations is an important part of restaurant marketing. Potential guests will be able to find all the information they need, check availability and book a table online without having to wait for business hours to call you.
If you're a Dineplan client, we'll add the "reserve a table" button to your Google My Business listing. People searching for restaurants can then find your business and book a table directly from Google Search, Maps or Assistant.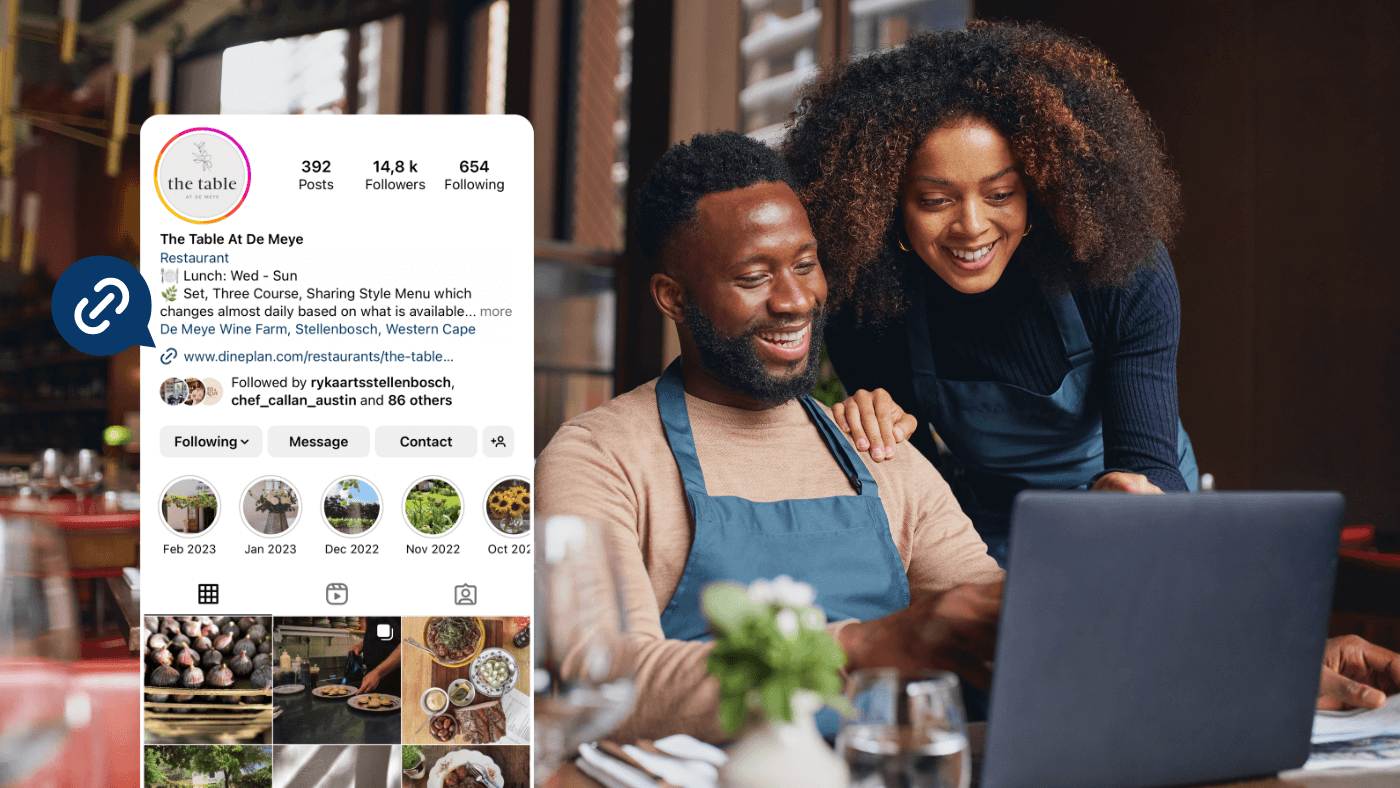 2. Showcase your restaurant on social media
---
Social media is another great marketing tool for restaurants and is one of the easiest ways to show off your "gram-worthy" food and atmosphere, gain followers and communicate with your guests.
Instagram is a popular platform, but it's important that your photos look good. If you're not confident in your photography skills, consider hiring a professional to snap some pictures of your food, drinks, restaurant space and team members. That way, you know you've got a quality representation of your business online.
You can also ask people who tag your location or account if you can share their photos and give them credit to encourage more user-generated content.
For more bookings and a better guest experience, include your Dineplan booking URL in your Instagram bio and Facebook posts, so guests can reserve directly. If you use a source code, you can see where each booking came from in your Dineplan account.
3. Provide an amazing guest experience
---
A key part of marketing your restaurant is providing a great customer experience. This means not only giving them great food and service, but also following up with them after their meal and asking for feedback. You can use a combination of software providers, like Dineplan, and third-party review platforms like Google to do this.
Remember, it's important to respond to feedback, whether it's good or bad. Making your guests feel heard and valued is a cornerstone of marketing so, even if the feedback isn't glowing, by handling it appropriately you can turn an experience around and show future guests that you are invested and always want to improve.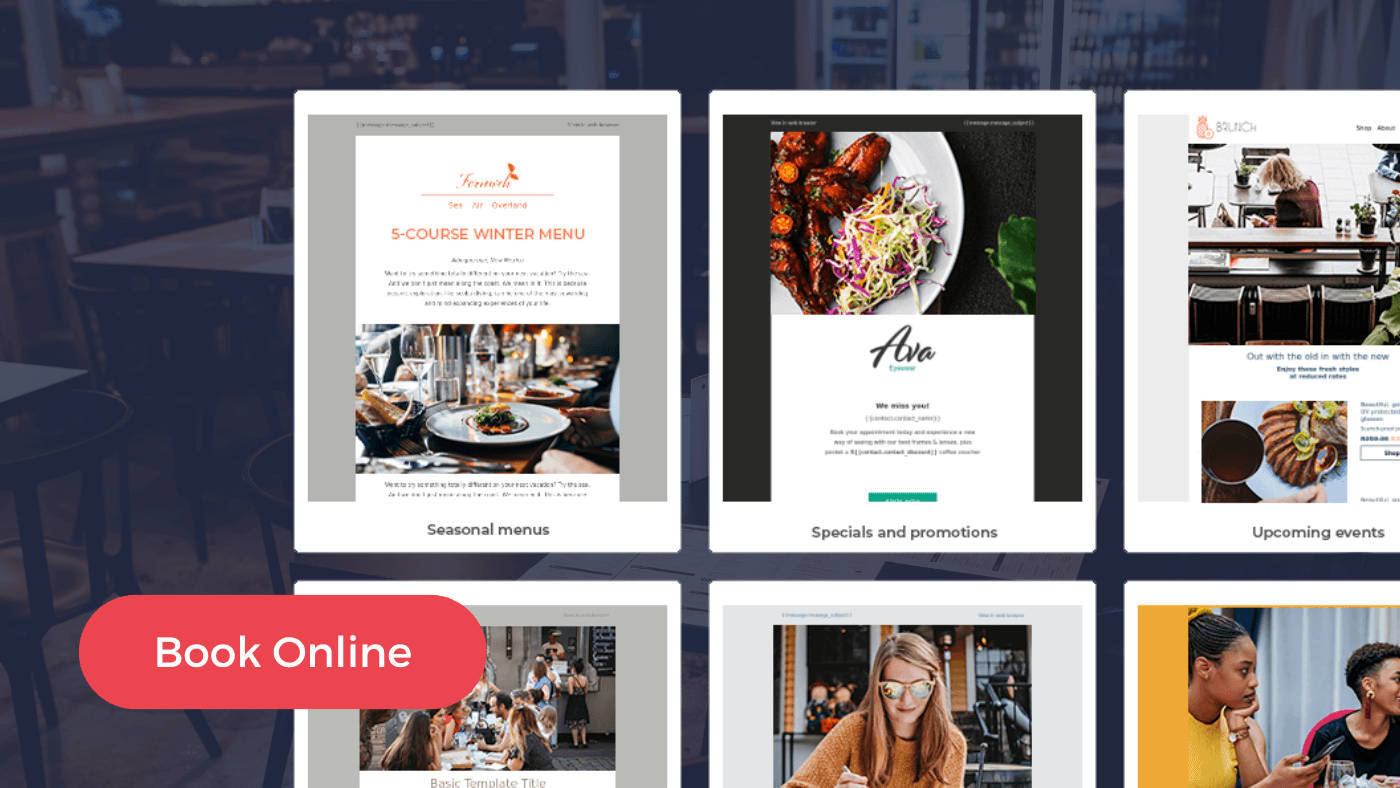 4. Leverage SMS and email marketing
---
SMS and email marketing are two very effective ways to promote your restaurant and increase guest engagement. With the right approach, SMS and email marketing can help you build strong relationships with your customers and increase your restaurant's revenue.
SMS marketing
SMS messaging is short and direct, making it a quick and convenient way to send brief, to-the-point marketing messages and promotions. If you use Dineplan as your reservation management platform, this SMS marketing functionality is integrated right into your portal, and is user-friendly and straightforward to use.
Use Bit.ly, a link-shortening tool, to condense your reservation link. After shortening your link, include it in your SMS message to enable your guests to book a table directly from their message inbox.
Email marketing
Email marketing, on the other hand, allows you to provide more detailed information about your restaurant and offerings, as well as showcasing your brand personality through creative design and imagery.
Dineplan offers clients a hassle-free email marketing service where our marketing team takes care of everything, from designing your campaigns to making sure you are POPI compliant. Simply send us your content, and we'll handle the rest. With monthly campaign setup and reporting, you'll be able to see the impact of your campaigns and how many bookings were generated.
To grow your email marketing database, add a subscription form to your website. If you need help with this, our Marketing team can help set one up for you.
5. More marketing activities to try
---
There are many other marketing activities you can do to get more customers through your doors. Hosting events can bring people in and create a buzz, while partnering with the right influencers and inviting them to try a new menu, for example, can help you reach a wider audience.
You can also engage with the media, like magazines and digital publications, to get your name out there. Magazines love covering a new restaurant opening, telling an interesting backstory about a chef, or even publishing recipes associated with a restaurant.
In summary, restaurant marketing is about making sure that people know about your restaurant and want to come back.
You can do this very easily through many channels, including your website, social media, email and SMS marketing lists, and paid advertising. Most importantly, by providing a great customer experience – before, during and post-dining – and engaging with your guests, you will get more diners and easily turn them into loyal regulars.