With 2023 well and truly underway, some of this year's biggest food trends are already out of the starting blocks.
While there's no way we could ever predict the future, these are the foods, flavours, ingredients and inspiration that we reckon we'll be seeing in restaurants across the country over the next 12 months.
1. Gildas
---
Aperitivo hour was on the up in 2022, likely in response to post-Covid freedom, which gave rise to 'cool' cocktails, such as Martinis and, of course, Negronis (with the Negroni Sbagliato deserving an honourable mention). While these drinks won't be going anywhere anytime soon, this year is all about the snacks served alongside them. Specifically, look out for snacks, like Gildas, a Basque bite featuring a green olive, a pickled guindilla pepper and an anchovy, skewered onto a toothpick. Or even, housemade potato crisps tossed in a spicy blend and doused with hot sauce. Olives and chips, we love you, but it's time for an upgrade.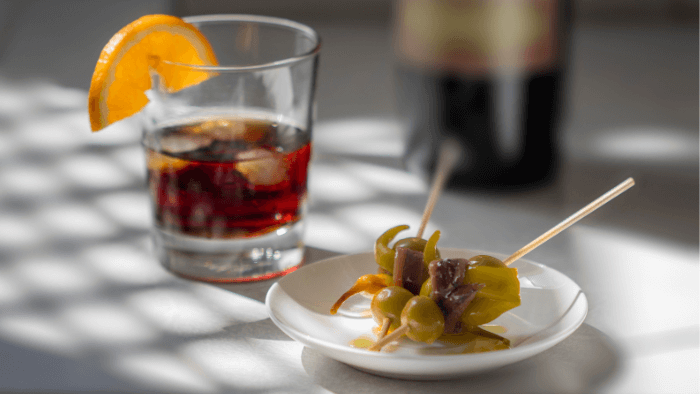 2. Vermouth
---
Likely another hangover from the Negroni and Martini trend from the last few years, vermouth is a common addition to many of these cocktails. Vermouth is a fortified wine, characterised by botanical and herbaceous notes, hence its popularity in other drinks. But in 2023, it's stepping into the spotlight as a drink all its own and there are various ways you can enjoy it. You could top it up with tonic or drink it neat, but I say, the best way is over ice, with a dash of soda to open up those herby flavours, with either orange peel or an olive (or two) thrown in for good measure.
3. Tinned fish
---
While tinned fish, in all its glory, really came into its own last year (especially for home cooks), this year, expect to find them being used more in restaurants – and even being served in the tin. Sardines with toast or crispbread, oil-packed tuna in salads or even tiny brown anchovies skewered onto toothpicks (as mentioned above!), you name the fish-from-a-can, you're bound to see it in a restaurant near you.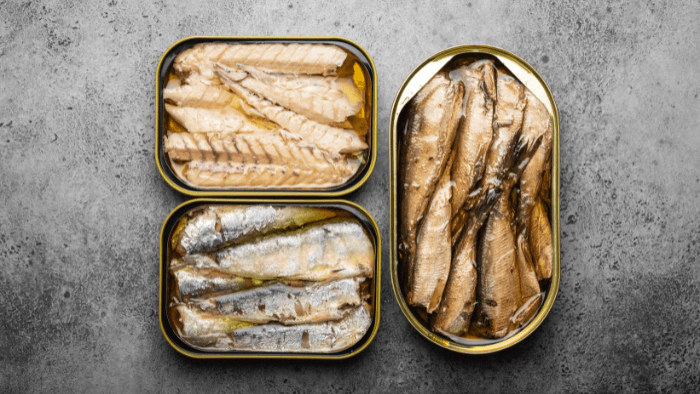 4. Mortadella
---
This trend might not be a particularly surprising one, especially to fans of cured meat, but 2023 will undoubtedly be mortadella's time to shine. The unmistakably, pink-hued sausage, made from finely ground pork, studded with fat and sometimes pistachios, has already been trending globally for a while and it's bound to find a receptive audience in South Africa this year. Look out for mortadella casually draped over salads and pizzas and as the sandwich filling del giorno.
5. West African food
---
While the African continent has been garnering much-deserved attention for its rich and diverse food and cuisine, West Africa, in particular, has been the focus recently. Look out for dishes such as Jollof rice, egusi and chicken yassa, common in countries such as Nigeria, Ghana and Senegal, to experience some of the best flavours this continent has to offer.
6. Retro food
---
If last year's custard slice resurgence was anything to go by, this year we're likely to see even more retro foods – and desserts, especially – on restaurant menus, en masse. 2023 is all about throwing it way back, with Baked Alaska, Viennettas and custard tarts popping up on a menu near you.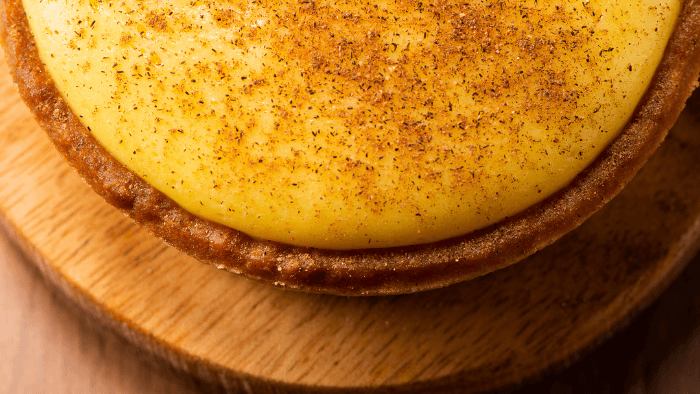 7. Pickles
---
Or rather, pickled peppers, are this year's pickled food darling. Going beyond the well-loved Peppadew and jalapeños, look out for peppers, or mild chillies, characterised by a delicate tang and gentle heat. Whether homemade or imported (such as guindillas mentioned above), these have started to make their way into sandwiches, charcuterie boards and antipasto platters. Bonus points to the restaurant if their charcuterie board also features mortadella.