If you're a restaurant owner, you're probably always on the lookout for ways to reach out to new and existing guests and get more bookings. One of the most effective ways to do this is through email marketing. In fact, we've seen that with the right messaging, restaurants can see as much as a 72% spike in the covers booked following an email campaign!
Let's dive into the reasons why newsletters are a great place to start when planning your marketing approach, followed by some easy tips on how to use email marketing for your restaurant.
A powerful marketing tool for restaurants
---
1. It's cost-effective
Email marketing is one of the most cost-effective marketing tools available to restaurateurs. In comparison to other forms of marketing, such as PR and advertising, email marketing is relatively inexpensive and can be done without a large budget.
2. It's targeted
With your existing database, you already know that your guests are interested in hearing from you. Compared to other marketing channels which are not opt-in based, your message is being sent to an already engaged audience.
3. It's direct
Unlike social media messaging and ad campaigns – where you have somewhat elusive algorithms to contend with – email campaigns go right into your client's inbox.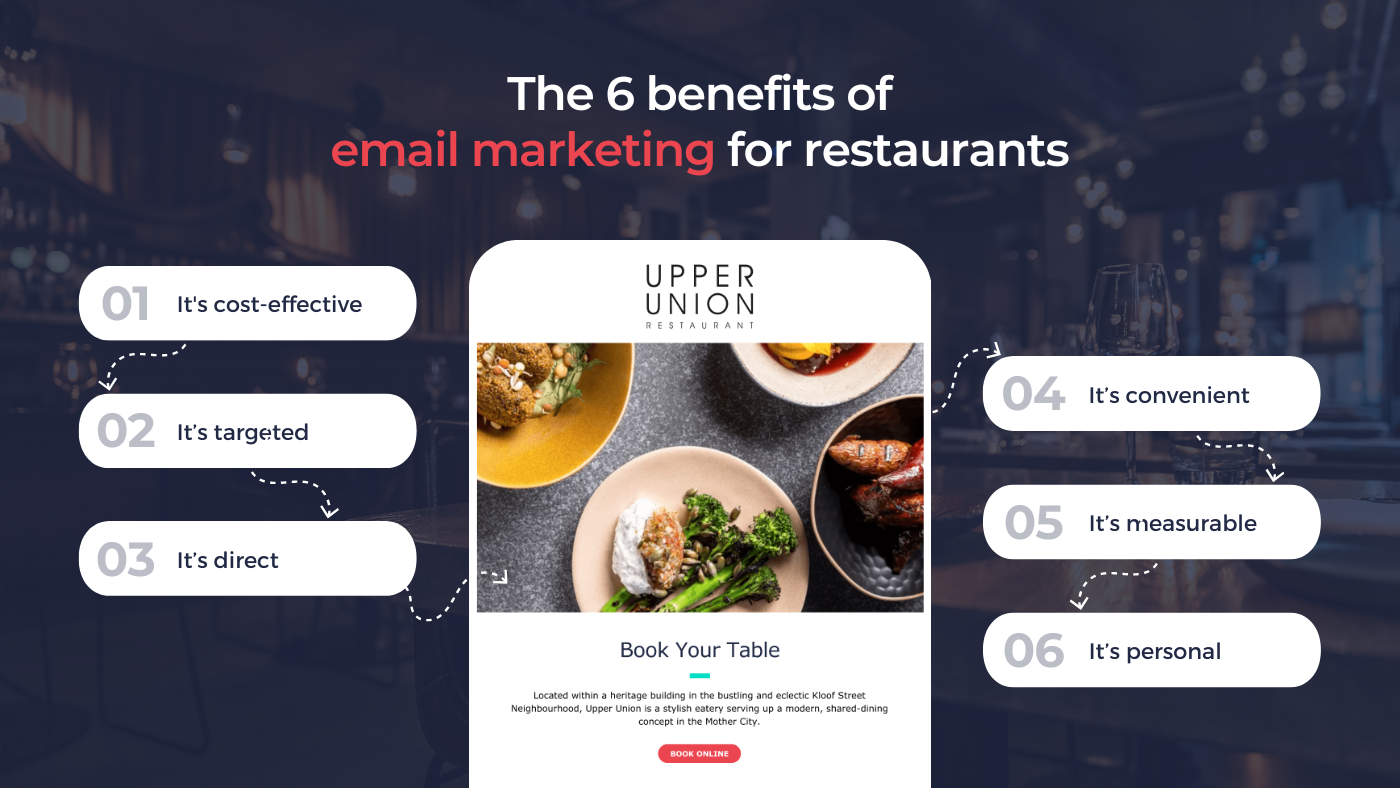 4. It's convenient
Email is an easy and convenient way to reach your guests. They can read your newsletters and offers in their own time, and they don't have to go out of their way to find your restaurant or visit your website.
5. It's measurable
You can track the success of your campaigns and see how well they're performing by measuring things like open rates, click-through rates, and conversions or reservations. You can then use this information to improve your future newsletters – knowing what works and what does not.
6. It's personal
Email marketing allows you to create a personal connection with your guests. You can use their first names in the subject line and in the body of your emails, and share stories and updates about your restaurant that will make them feel like they're part of your community.
So, now that you know all the benefits, how do you create a successful email campaign for your restaurant?
Our 10 tips for creating a successful restaurant newsletter
---
Now that you know why email marketing is a great tool for your restaurant, here are some tips to help you create a successful newsletter campaign:
1. Build and grow your email mailing list
Before you start sending out emails, you need a targeted list of recipients. Newsletter subscribers can include existing guests or people who have opted in to hearing from your business in the past. To grow your email marketing database quickly, add a subscription form to your website.
As a Dineplan marketing client, we make email marketing as easy as possible! Our team sets up your email account and links it to your guest database for automatic updates whenever someone opts in or out. We can also import any of your existing mailing lists and help you add a subscription form to your website – ensuring your guest database is always up-to-date and POPI compliant.
2. Use a professional-looking template
Your email newsletter should have a professional, polished look to it. You can use a pre-designed template or design and code your own. Just make sure that your newsletter looks clean, organised, and easy to read on both desktop and mobile devices.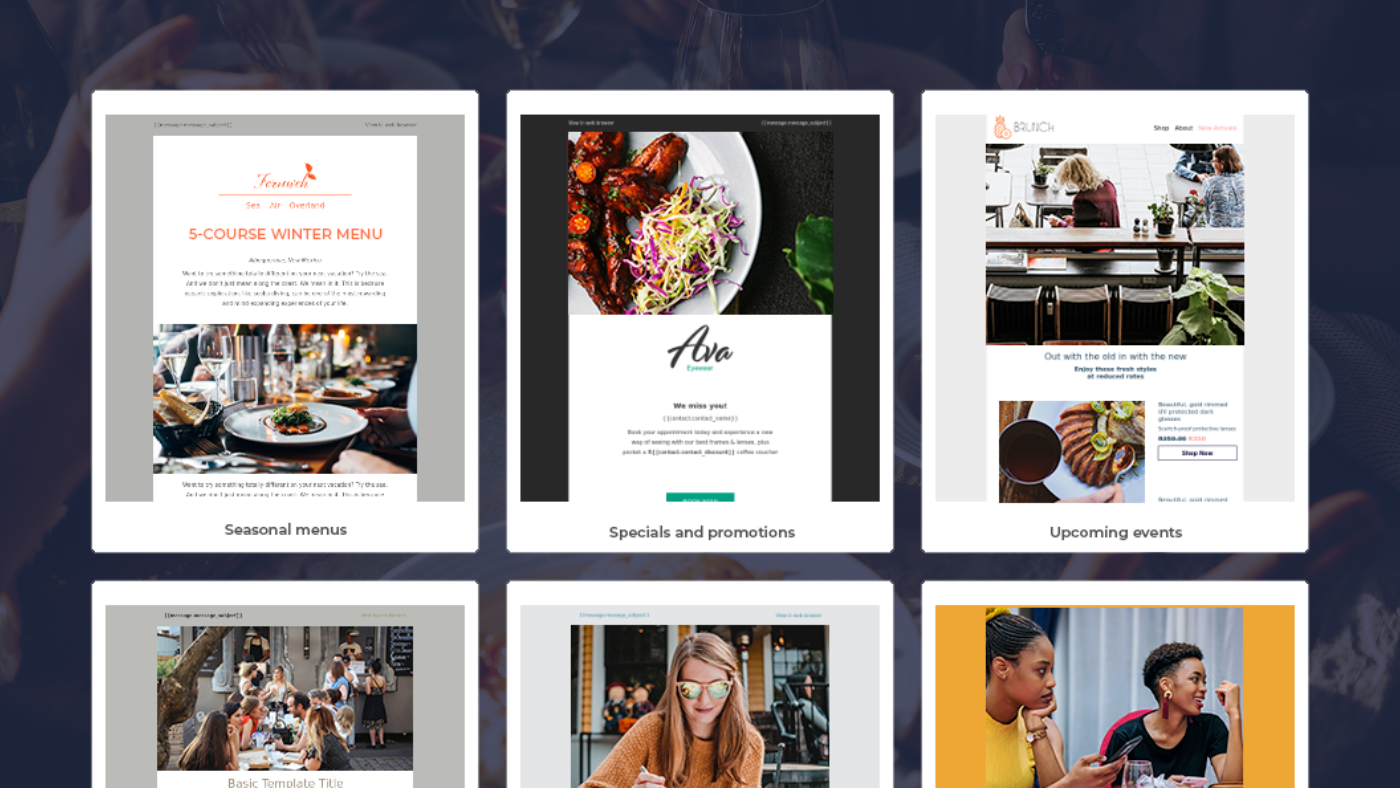 It's very important to test your email template across various devices and make sure the layout doesn't break.
3. Determine the purpose of your newsletter
Before you start planning your newsletter, it's important to know what you want to accomplish with it. Do you want to promote a special offer or event at your restaurant? Do you want to share news and updates with your subscribers? Do you want to build a sense of community among your diners? Knowing the purpose of your newsletter will help you create content that resonates with your audience.
4. Create engaging content
Once you know who your newsletter is for and what you want to achieve with it, you can start thinking about the content you want to include. Your copy and imagery should be engaging, informative, and relevant to your audience. For example, you might include mouth-watering photos of your dishes, details about upcoming events, or behind-the-scenes stories about your restaurant.
5. Use a catchy subject line
The subject line is the first thing that your recipients will see when they receive your email newsletter, so it's important to make it attention-grabbing and engaging. A good subject line should be concise, descriptive, and relevant to the content of your newsletter. It also doesn't hurt to add an emoji, from time to time.
6. Personalise your emails
Addressing recipients by their name and tailoring the content of your emails to their interests and preferences can help increase engagement and conversions.
7. Keep your emails short and sweet
People are busy and don't have time to read long emails. Keep your content short, to the point, and easy to scan.
8. Include a clear call-to-action
Whether it's making a reservation, booking for a particular event, reading a blog post or visiting your website, make sure your email includes a clear call-to-action, or CTA, that encourages your recipients to do something and close the loop.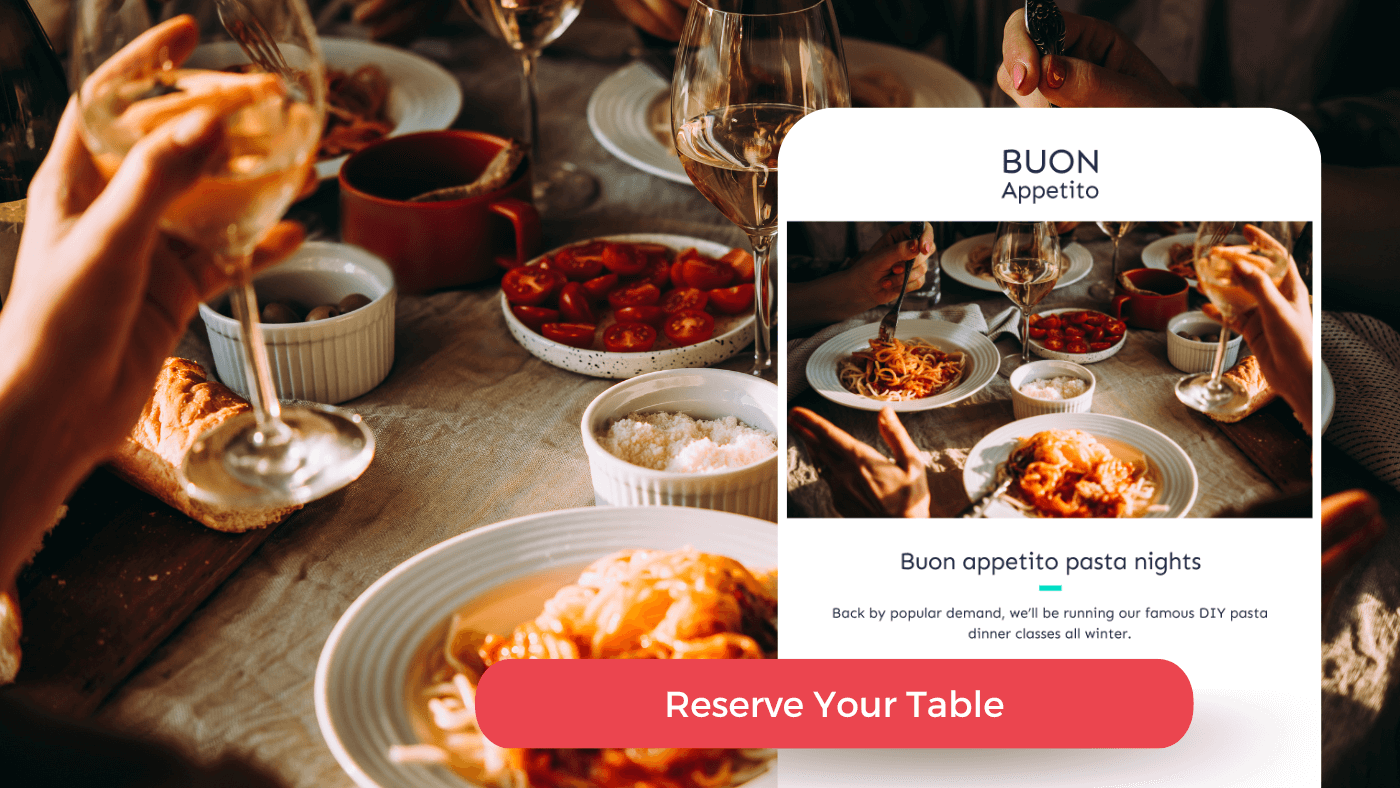 9. Measure and analyse the results
After you've sent your newsletter, it's important to track its performance and see how it did.
This is a vital step, as it will help you understand what's working well and what you can (and should) improve for future newsletters.
You can use tools with your email marketing platform to measure things like open rates and click-through rates, as well as Google Analytics to measure referral traffic and conversions – or bookings, in most restaurant cases.
9. Stick to a schedule
Decide how often you want to send your newsletters and plan a schedule that works for you and your audience. Keep in mind that it's generally best to send newsletters on a regular basis, rather than sporadically, so that your audience knows what to expect and can look forward to hearing from you.
"We encourage restaurateurs to view their newsletter schedule as an ongoing conversation – adding value on a regular basis and building a relationship with their guests – and not only reach out when they want to sell event tickets and push bookings." – Catherine Poole, Dineplan Email Marketing Team
Overall, email marketing is a powerful and effective tool for restaurants looking to promote their business, build customer relationships, and drive growth.
By following these tips, you can create a successful email marketing campaign that drives loyalty and increases your bookings. At Dineplan, we offer a powerful email marketing tool that makes it easy to create and send professional-looking emails to your customers. Contact us today to learn more about how we can help you grow your business with email marketing.
Dineplan email marketing
We offer fully managed and integrated email & SMS marketing for as little as R550 per month
Read More
Join Dineplan