Published 2021/08/06
Join me as I delight in the anticipation of filling a table-full of empty glasses at Waterford Estate! By Jenny Handley from Gourmet Guide https://gourmetguide.co.za/ 
It was truly magical to head off to the winelands for our first wine tasting and lunch in a long while. Situated on the Blaauwklippen Road in Stellenbosch, Waterford boasts an intimate courtyard that provides a tranquil backdrop for the tasting of their superlative wines. We chose the estate tasting – six wines, the second half being paired with chocolate. The Waterford wine and chocolate experience, three wines and three chocs, is reasonably priced at R95, but waived if you buy wine. There's an interesting range of tasting experiences to choose from – jem, estate, chocolate and more.
The significance of the snacks (popcorn, cheese straws and olives) was explained – everyone loves salt with their popcorn, cheese is salty and of course olives are brined in salt. The masala chai chocolate highlights the spicy notes (nutmeg, cinnamon and cloves) of the legendary Kevin Arnold Shiraz. The 70% rock salt brings out the savoury characteristics of their Cab Sav. The rose geranium milk chocolate, with its floral tones, brings the hint of Muscat raisins and vanilla of the Heatherleigh, with its low alcohol and low sugar content, to the fore.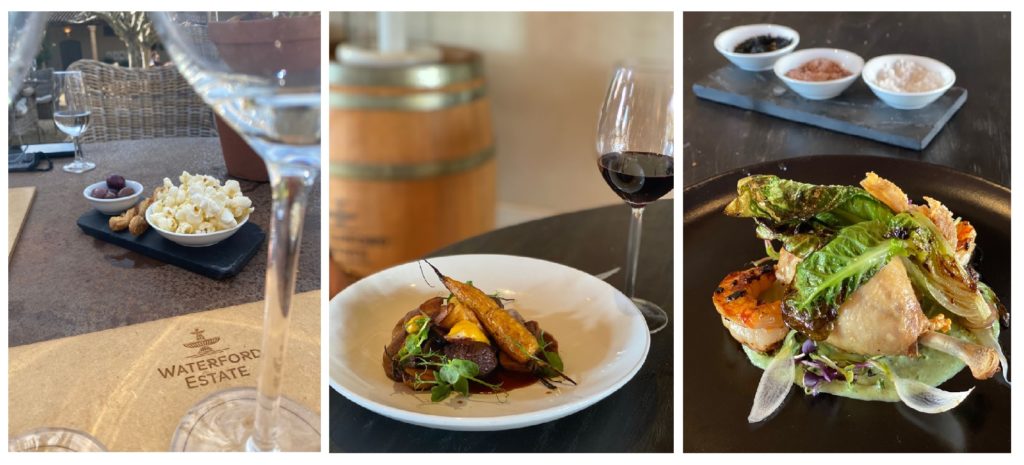 Lunch at Salt
We were the only tasters who chose to move our lunch at Salt inside, everyone else continued to bask in the midday sun. Here the chefs incorporate of variety of salts and salting techniques into their dishes.
The pasture-reared, braised sustainable, ethically farmed, grass-fed Usana beef bourguignon with biltong was served with pickled tongue and Mason's root veg. The salty note on the menu explains how European seafarers used salt (or brine) to preserve meat. Biltong is the welcome result of the wagon-travelling Voortrekkers who needed durable protein during their journeys.
I chose the confit chicken with sauteéd prawns and chilli jam. The emphasis of salt in this delicious dish? When cream is cultured and agitated it divides into butter (solid) and buttermilk (liquid). Of the three desserts, the mouthwatering apple tarte tatin with vanilla and red alaea salt, and clotted cream ice cream beckoned, but we could not do it justice. Next time!
Book Waterford Estate Tasting:
Book Now
Powered by Dineplan
Book Waterford Estate Experiences:
Book Now
Powered by Dineplan
How About Now?
I left happy having had my winelands fix, quietly plotting. Only one mistake, my man happened to mention that he has a bottle of The Jem in his collection. He will not confess if it is 2013 or 2015…but surely it is time to indulge and enjoy? If lockdown has taught us anything, it's to never wait for tomorrow. And anyway, my three-word motto is, "How About Now?"