Published 2021/08/27
Winter might be coming to an end but you can still cook up a storm with these amazing recipes by David Higgs, Matthew Foxon and Wesley Aucamp. Featured in Gourmet Guide Winter issue 2021 https://gourmetguide.co.za/ 
TOMATO AND GARAM MASALA SOUP, CORIANDER VETKOEK, YOGHURT
By Chef David Higgs of Marble and author of 8 Mile cookbook
The wet masala spice mix is from Shaikhs Exotics in Athlone, Cape Town. I have been buying this product from them for years. Wet seafood masala is great for all spicy dishes, not only seafood. The yoghurt espuma can just be replaced with plain, thick yoghurt.
INGREDIENTS
Tomato and garam masala soup
500 g cherry tomatoes
70 ml olive oil
2 g salt
7 g garlic
14 g ginger
100 g carrots, brunoise (diced into 3mm cubes)
300 g red onions, sliced
50 ml olive oil
8 g wet seafood masala
1.5 L vegetable stock
500 g whole peeled tinned tomatoes
7 g salt
Coriander vetkoek
2.5 g dried yeast
125 ml water
175 g flour
11 g honey
1.8 g ground coriander seeds
3 g salt
Yoghurt espuma
1½ leaves gelatine
ice water
250 ml plain yoghurt
3 g salt
Pickled cucumber
360 ml yoghurt espuma, 45 ml per serving
32 sprigs micro coriander, 4 per serving
wet masala, sprinkle for garnish
METHOD
Tomato and garam masala soup
Drizzle the tomatoes with 20 ml of the olive oil and the salt. Oven-roast at 200°C until soft and blistered.
Cook the garlic, ginger, carrots and onions in the remaining 50 ml olive oil until soft but without colour. Add the seafood masala and fry for a minute or two. Add the roasted tomatoes and cook for a further 5 minutes.
Add 800 ml of the vegetable stock and the whole peeled tomatoes. Cover with a cartouche (paper or silicone lid) and cook for 20 minutes until the onions and carrots are soft.
Let the soup stand for 1 hour to develop its flavour, before transferring the soup to a blender. Blend with the remaining 700 ml vegetable stock until smooth. Do not add all the stock at once; rather add it slowly to adjust consistency. Season to taste.
Coriander vetkoek
Combine the yeast with the lukewarm water. Allow it to sit for 5 minutes. Combine the flour, honey and coriander and add the water mixture. Once incorporated, add the salt. Knead until a dough is formed and it is no longer sticky.
Cover and rest for 30 minutes. Knock down the dough and let it sit for a further 30 minutes, and then roll 30 g portions into balls, and prove the balls for 15 minutes. Deep fry at 180°C for 4 minutes or until golden brown, and drain excess oil on paper towels.
Yoghurt espuma
Bloom the gelatine in ice water.
Heat 125 ml of the yoghurt with the salt and add the bloomed gelatine – heat until dissolved.
Combine the gelatine mixture with the remaining 125 ml yoghurt while it is still warm.
Place the mixture in a cream siphon gun and charge it twice. Let it set at room temperature for 1 hour. If it is runny when discharging, refrigerate until the mixture is the right consistency.
PLATING
To assemble, discharge 45 ml of the espuma into the middle of each hot soup plate.
Sprinkle with 4 sprigs micro coriander and wet masala.
Add a coriander vetkoek to the plate. For effect, pour the 180-200 ml portion of soup at the table, into the centre of the espuma.
Book at Marble:
Book Now
Powered by Dineplan
CLASSIC BOUILLABAISSE
By Chef Matthew Foxon of The Saxon Hotel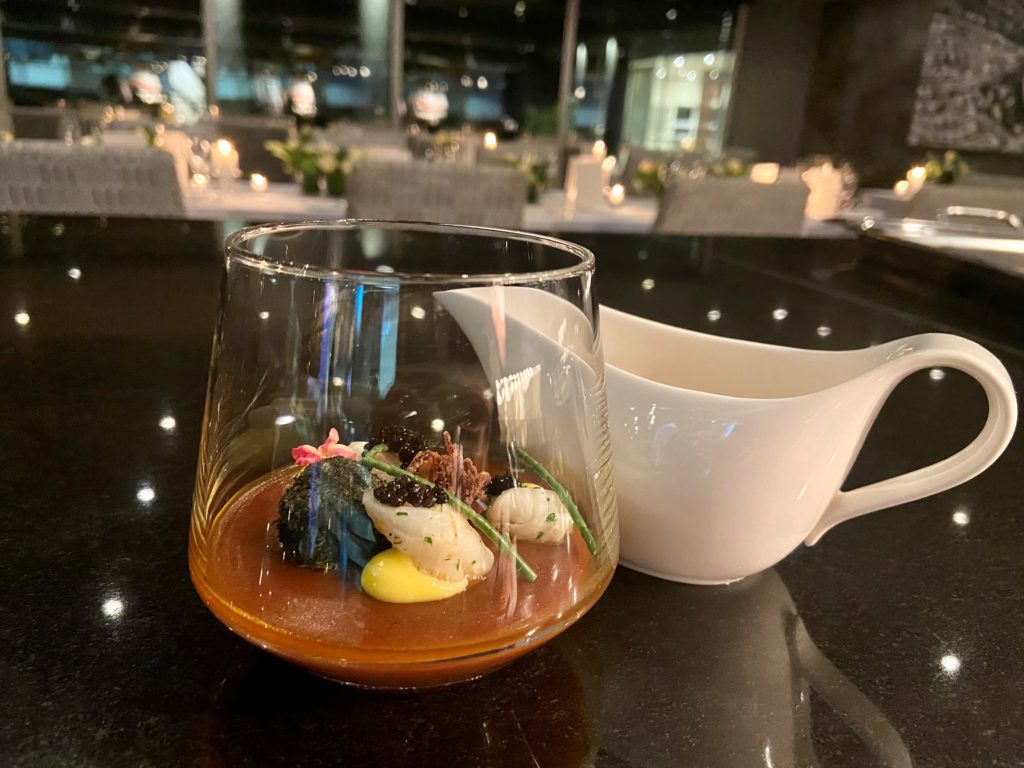 A classic French fisherman's soup. Local fish and shellfish in a sauce of tomato, saffron and orange peel. We have taken a slightly different approach to this traditional dish whilst keeping all the flavours and fresh ingredients.
INGREDIENTS
For the soup
1 onion, diced
1 carrot, diced
1 leek, thinly sliced
4 garlic cloves, minced
3 T tomato paste
2 C dry white wine
peel and juice of 2 oranges
1 fennel bulb, sliced
5 tomatoes, diced
½ t saffron threads
2 L fish stock (see recipe below)
1 t fresh thyme
2 bay leaves
salt and pepper to taste
For the fish stock
1 kg white fish bones and heads
2 onions, chopped
2 carrots, chopped
2 garlic cloves, chopped
3 L water
handful fresh parsley
handful fennel leaves
3 tomatoes, chopped
Seafood for soup
squid heads
½ C cornflour
salt and pepper
calamari tubes
prawns, cleaned and deshelled
juice of 1 lemon
1 T butter
1 T chopped parsley and chives
oil for frying
METHOD
For the soup
In a large pot, fry together the onions, carrots, leeks and garlic.
After about 10 minutes add the tomato paste and fry for about 5 minutes.
Deglaze the pot with the white wine and orange juice. Cook for a further 5 minutes.
Add the rest of the ingredients and gently simmer for 2 hours. Strain the soup and keep the liquid.
Transfer back into a pot and bring back up to a simmer. Allow the soup to reduce by one third. Taste for seasoning. Ready to serve.
For the fish stock
Roast the bones and heads in a preheated, 200°C oven for 20 minutes or until a golden-brown colour.
Add the bones and the chopped vegetables to a large pot. Add the water and herbs and bring up to a boil. Reduce the heat and simmer gently for an hour.
Strain the mixture and discard the bones and residual vegetables. Use the fish stock to make the bouillabaisse soup.
Seafood for soup
Toss the squid heads in a seasoned flour mixture (cornflour, salt and pepper). Fry in hot oil until golden and crisp. Keep aside.
In a separate pan, heat up a tablespoon of oil and fry the calamari tubes and prawns for about 2 minutes. Add the lemon juice, butter and herbs and stir. Remove from heat.
PLATING
To serve, add the soup to the bottom of a bowl and add your seafood on top.
Book at Qunu at Saxon Hotel:
Book Now
Powered by Dineplan
WATERSIDE BOUILLABAISSE
By Chef Wesley Aucamp of 9th Avenue Waterside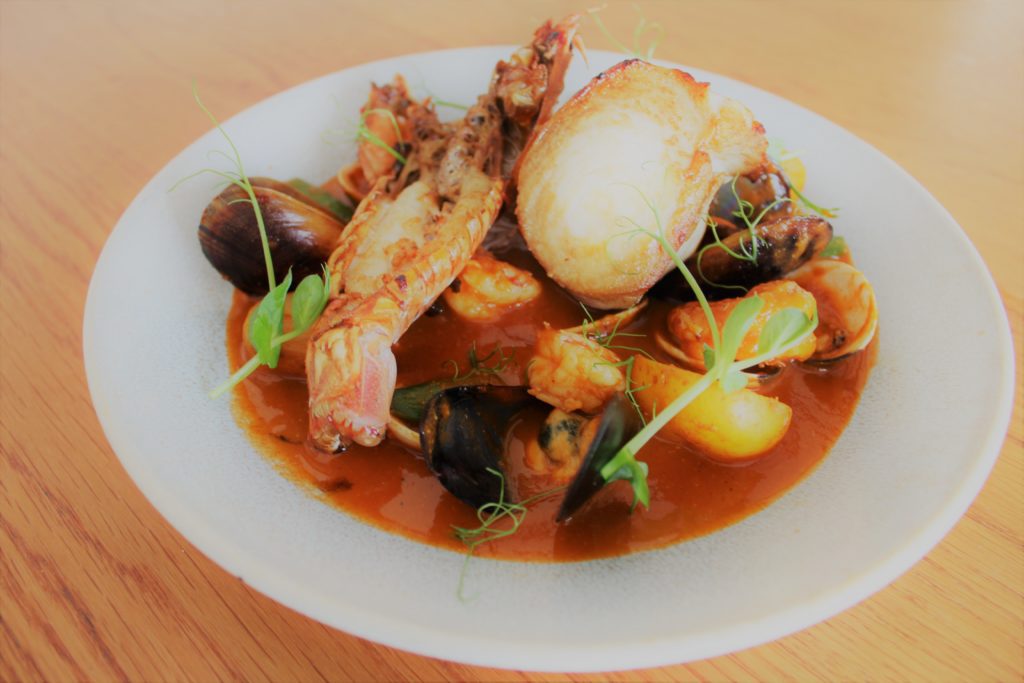 Bouillabaisse is a traditional French fish stew which originated in Marseille. The rich soup base is magically transformed into a decadent stew once the fruits de mer are added.
INGREDIENTS
Soup Base:
15ml Olive oil
1 lt Chicken or Fish stock
2 Bay leaf
650 g Deshelled prawns – reserve shells for soup
2 -3 Anchovy fillets
10 Peppercorn
1 bunch Leeks – chopped
3 large Carrots – chopped
1 pinch Saffron
1 Onion – diced
350ml White wine
2 bulbs Fennel – chopped
6 cloves Garlic – diced
5g Tomato paste
4 sprigs Fresh Thyme
1 bunch Celery – leaves removed & chopped
Seafood & Veg
450g Firm white fish (Mackerel or Swordfish)
500g Large Prawns
4 -6 Langoustines (optional)
1 bulb Fennel – shaved
800g Baby potatoes
300g Clams
300g Mussels
30g Snap peas
METHOD
Soup base
In a large saucepan, sweat off the onions, celery & fennel for 6 – 8 min on a high heat.
Add your tomato paste and anchovy and cook for 5 -6 mins.
Deglaze with white wine and simmer for 5 mins. Add stock and lightly season with salt & pepper.
Add prawn shells, tomato, saffron, bay leaf, garlic, thyme and peppercorns. Bring to boil then simmer until veg is soft. Blend fine with a hand blender or food processor. Pass through a fine mesh strainer and retain soup.
Seafood and vegetables
In a separate pot, boil baby potatoes until soft. Once cooked, split in half and add to soup base.
In a large frying pan, sear & cook off white fish fillets, large prawns as well as optional langoustines.
Bring soup to a boil & add clams & mussels – cook until they are all open.
PLATING
In 4 – 6 serving bowls, divide the soup, prawns, langoustines, fish & potatoes equally and garnish with shaved fennel & snap peas.
Book at 9th Avenue Waterside:
Book Now
Powered by Dineplan