Jenny Handley followed chef John Norris-Rogers from the winelands to the water to experience the latest addition to the La Colombe family, PIER Restaurant.
(As featured in the latest edition of the Gourmet Guide here: https://gourmetguide.co.za/3d-flip-book/gourmet-guide-feb-march-issue/)
It's an enviable setting, a working harbour filled with the activity of luxury yachts setting off for sunset cruises, and even a tug or two. The V&A Waterfront in Cape Town may boast a fleet of restaurants, but PIER Restaurant is the first of this calibre. Devoid of décor, this intimate, upper-level space in the Pierhead building allows the vista to be a single, arresting artwork, enjoyed from every table and the open kitchen. Dishes are all art-gallery worthy, served in or on captivating crockery or wood that has been exclusively sourced to ensure that the entire epicurean experience is one-of-a-kind.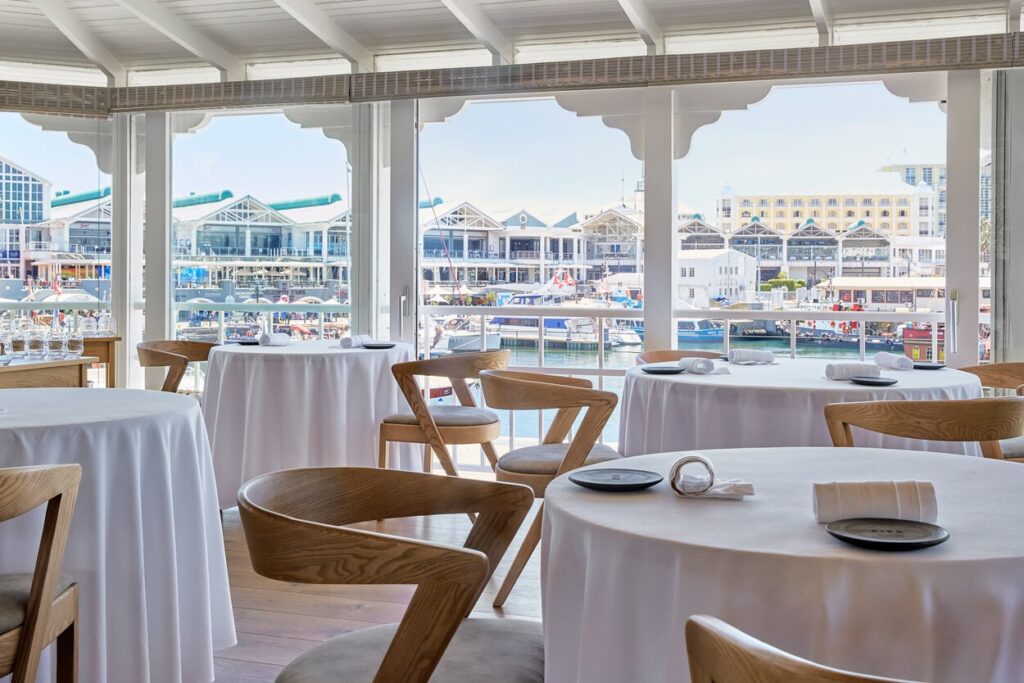 SIP AND DIP
As we sip on our welcome glass of bubbly, I watch the oyster cart pass. While most guests choose to tuck into the oysters poached at the table, amidst oohs and aahs, we dip into the vegetarian option. It's a small dish of cauliflower with smoked onion, apple and sultanas, a gentle espuma that is big on flavour and complexity.
Head chef John Norris-Rogers deservedly notched up two-plate status at La Petite Colombe in Franschhoek. Having opened this restaurant on 24 December 2021, he has used his instinct and experience to ensure an enthralling menu. Whilst there is a leaning towards seafood to pay a nod to the location, Chef John has ensured that there is variety, with a focus on local produce. He has retained his practice of planning a vegetarian menu and adding protein, so vegetarians and vegans will never be an after-thought.
THE ART OF PLATING
A tiny salmon cone with horseradish and dill is propped up in an illuminated piece of porcelain coral, which remains on the table for soft lighting as the sun sets and the talent show begins. Truffled chicken liver, Springbok and red onion is served on ceramic funghi. We realise that receptacles may be as imaginative as the cuisine, and that art will feature often, just not on the walls. Bone marrow butter, subtle in flavour, has been gently carved into the shape of bone marrow.
Thai-style tuna with tiger's milk, covered in a thin green gel, allows you to amp up the piquancy with the feisty furikake, which, if made available, I would bulk buy. The mussels with black forest ham and soubise is served in, you guessed right, a shell. As I struggle to get the last drop of the sauce out with my teaspoon, I furtively glance at the well-spaced tables, wondering if it is etiquette to drink from the shell. The crayfish with pork jowl, spiced coconut and tortellini is subtle yet punchy, with a delicate note of ginger to add zing.

UP, UP AND AWAY
We are invited to witness the creation of our nitrogen-poached kalamansi, a delight that creates distinction before we leave the seabed to enjoy grass-fed beef with duck liver, broccoli and a smoked short rib jus. Finished and sliced tableside, it is pure perfection. "We had considered offering a purely seafood menu because of our location, but the addition of meat has been well received," says John as we compliment him on the flavour, texture and gueridon service.
An optional cheese course, at a supplement of R150 per person, is impressive and lauds local. A wooden tower is dismantled to present the wafers and bread, cheeses and accompaniments as a worthwhile, indulgent course, paired with Klein Constantia's Vin de Constance 2018.
Dessert of a honey-bee biscuit, chamomile and stone fruit with brown bread ice cream is about to bring the gastronomic journey to a close. The final gesture, 'sea salt', is a seashell that opens to unveil two heavenly bites – the sublime chocolate with miso creates a fitting final impression.
One may balk initially at the cost of the wine pairing, but they are impeccable, thought-provoking and well commentated. Seamless service, under the management of Aaron Farquhar, previously manager of La Colombe, is top-notch, engaging and informative. The tempo of the experience was perfect, allowing us enough time to glimpse the dishes being served at their Waterside Restaurant below.
From the doves of La Colombe to the little doves of La Petite Colombe to the seagulls, all-in-all, a seamless transition.
BOOK AT PIER BELOW
Book Now
Powered by Dineplan